Picture high school: students milling around, slamming lockers, elbowing their ways through life. The claustrophobic feeling of being trapped by the florescent lights that were always too bright, bouncing off the ugly, speckled tile and the ordinary, metal lockers. Then there was Laura with her sketchbooks and her the-world-is-my-oyster smiles walking down the hallway. Even back then, the best thing about Laura was the way she saw the world.
Laura always looks for the bright side. The sunny-side up side. The didn't-think-to-look-on-that-side-of-the-picture side. She's simply the kind of person who finds what's good in the world and tries to draw your attention to it, and in this, she has brought much joy to my life in our sixteen years of friendship. Now, she brings this same attitude to her work as an artist. She has the ability to draw out the beauty in the things we take for granted: a flower, a blade of grass, a butterfly, some obscure bug, the movement of a running animal, etc. Her appreciation for all things small adds up into these intricate pieces of art, and I love listening to her talk about a project she's working on. She gets excited and enraptured in the same way I do over writing because we are kindred spirits on this artistic journey, and I was extremely honored when she agreed to paint Intrepid's book cover.
"I have to warn you, I've never done a human before," she said. "But I've always wanted to learn." Even with her disclaimer, I wasn't worried. Laura has a way of figuring out how to do anything, step by strenuous step. And she did…
After a couple weeks of bouncing around ideas, she painted her first pair of hands: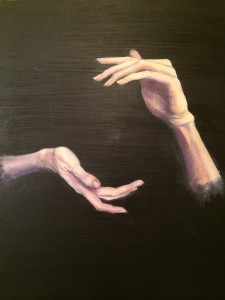 Then the inkling of her first galaxy: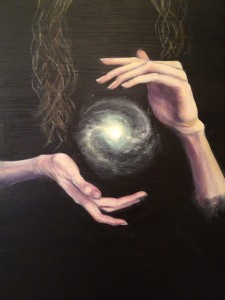 For weeks, I kept showing people these pictures. I was filled with giddy giggles, because I knew that after the hands, she was in the zone. Meanwhile, I searched on dafont.com for the perfect font. I remembered seeing one called Quantum Ants when I was searching for Vagabond's font, and it was stuck in my head. Luckily, I stumbled upon it again and I contacted the owner for commercial rights. (If you happen to be looking for a font, Max Infield with Xerographer Fonts has some amazing selections— http://ow.ly/FEgik )
Months passed with both of us creating our versions of our own drafts. I was agonizing over sentence structure and plot lines, while she was agonizing over color schemes and painting lines. Then, one day, I heard my Zelda Ring Tone screaming, "Hey, Listen!" I picked up my phone to discover I'd been given a present. The inkling of a galaxy bloomed into a chaotic swirl of colors, and hovering over it was the most perfect face with the most haunting eyes.
Tears! Big, droopy, ploppy tears of joy happened when I saw this: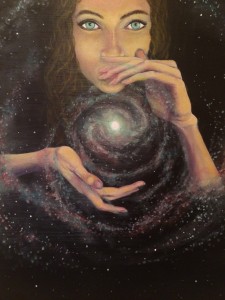 After getting the painting scanned, and the beautiful and talented Sarah Martin photoshopped the title on, Intrepid's book cover was born: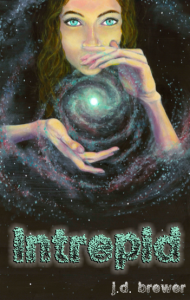 I'm not sure what I did to get the friends I have, but all the lucky stars fell into my lap when I met the people who love and support me. Laura Ottensman has been and continues to be one of these people for me. I can't thank her enough, and I cannot wait for the world to experience her art.
Intrepid is now Available on Amazon. Click here to purchase: Intrepid
About the Artist: Laura Ottensman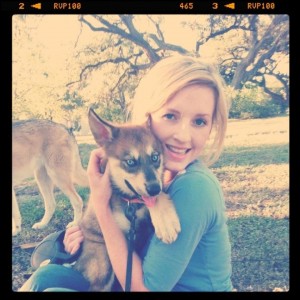 Laura Ottensman is a self taught artist who, from an early age, loved drawing horses and unicorns any chance she could get.  Laura's work is a reflection of her love for light, earth and its inhabitants. After running around in circles through college wondering what she would major in, she finally realized she should do what she is good at and pursue painting. She finished school and turned her focus towards her art, where she now works full time in her South Texas studio.
Follow Laura on Facebook: www.facebook.com/Ottensmanart